GENERAL | January 20, 2022
Addressing Senior Loneliness and Isolation
Reading Time: 4 minutes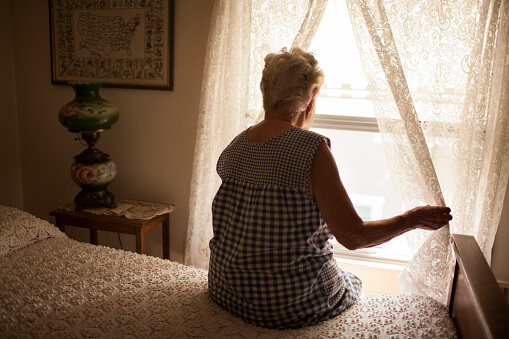 Reading Time:
4
minutes
Social isolation and loneliness are common problems among older adults and are linked to several health conditions, such as depression and heart disease. According to the CDC, social isolation is a lack of social connection, while loneliness is the feeling of being alone, regardless of the amount of social contact.
Healthcare professionals can take steps to address these issues among their senior patient populations, including assessing the patient's social situation, recommending appropriate interventions, and providing educational resources. By recognizing social isolation and loneliness, providers can help improve the health, wellness, and quality of life of their older patients.
The Health Risks Associated with Senior Loneliness and Isolation
Life changes associated with aging contribute to social isolation. Social circles often shrink due to retirement, the deaths of friends and loved ones, family members moving away, and poor health.
There is strong evidence that older adults who are socially isolated or lonely have a higher risk of poor health outcomes and premature mortality, including:
Higher rates of depression, anxiety, and suicide
A significantly greater risk of premature death from all causes
50% higher risk of dementia
25% increased risk of heart disease and 32% increased risk of stroke
Four-fold risk of death, 68% greater risk of hospitalization, and 57% higher risk of emergency department visits among older patient with heart failure
Loneliness and isolation among seniors is costly: Medicare spends an estimated $6.7 billion more each year on beneficiaries who have little social contact with others.
Assess the Social Situation of Senior Patients
To effectively address the health risks associated with senior loneliness and social isolation, healthcare providers need to first assess the patient's social situation. Measuring an individual's level of loneliness and social isolation can be a challenge because these factors tend to be subjective, and seniors may be reluctant to share this information. There are numerous tools designed to identify elements of both social isolation and loneliness. The most widely used tools include:
UCLA Loneliness Scale
Duke Social Support Index
Berkman–Syme Social Network Index
Steptoe Social Isolation Index
Lubben Social Network Scale
de Jong Gierveld Loneliness Scale
Cornwell Perceived Isolation Scale
Campaign to End Loneliness Measurement Tool
While none of these scales are perfect, they are validated and guide healthcare professionals to identify associated health risks for their patients. Overall, some things to look for when assessing a senior patient's social situation are:
How socially engaged are they?
Do they have regular contact with friends and family members?
What is the quality of their relationships?
Do they have a supportive and positive attitude, or do they tend to complain and feel negative about others?
Is the patient excluded from activities or events because of physical limitations or health problems?
Does the patient live alone?
Does that patient have someone to help them out around the house or run errands?
Recommend Appropriate Interventions
Once healthcare professionals have identified the risks, they can recommend meaningful interventions tailored to the individual. These interventions will vary depending on the patient's needs. They may include anything from treating underlying causes – such as mobility limitations or hearing loss – to recommending social activities or counseling to connecting them with mobile technology resources, providing telehealth, or prescribing medication.
Implementing the principles of the Age-Friendly Health Systems movement is an excellent way to develop plans of care that address isolation, loneliness, and the associated risk factors in older patients. The core elements of this evidence-based framework for high-quality, age-friendly care are the 4Ms:
What Matters: Know and align care with each older adult's specific health outcome goals and care preferences, including, but not limited to, serious illness care, and across
settings of care.
Medication: If medication is necessary, use age-friendly medication that does not interfere with What Matters to the older adult, Mobility, or Mentation across settings of care.
Mentation: Prevent, identify, treat, and manage delirium across settings of care.
Mobility: Ensure that each older adult moves safely every day to maintain function and do What Matters.
Provide Educational and Community Resources
Outreach programs can help educate seniors and their families about best addressing loneliness and social isolation. These educational resources may include print materials like fact sheets or brochures and online articles and videos. By providing information on the risks of loneliness and social isolation as well as guidance on how to connect with others, healthcare professionals can empower patients struggling with these issues to build healthy networks for themselves.
There is also a plethora of national and community organizations dedicated to assisting isolated seniors to connect based on individual needs:
GoGoGrandparent – enables seniors to access rideshare, grocery and food delivery, pharmacy delivery apps without a smartphone
ITN America – provides affordable local transportation services for seniors
Meetup – facilitates groups and communities with similar interests and ages to organize activities
RetiredBrains – helps retired adults find community service opportunities
SeniorNet – helps seniors learn how to use technology to stay connected to others
Volunteers of America – provides an array of services and programs that promote health and independence for seniors
ACP Decisions offers an extensive library of over 420 senior-friendly video decision aids and educational videos that are evidence-based and available in over 20 languages. Click here to view our list of resource topics.  
---
---