GENERAL | April 26, 2021
A Public Health Approach to Advance Care Planning
Reading Time: 3 minutes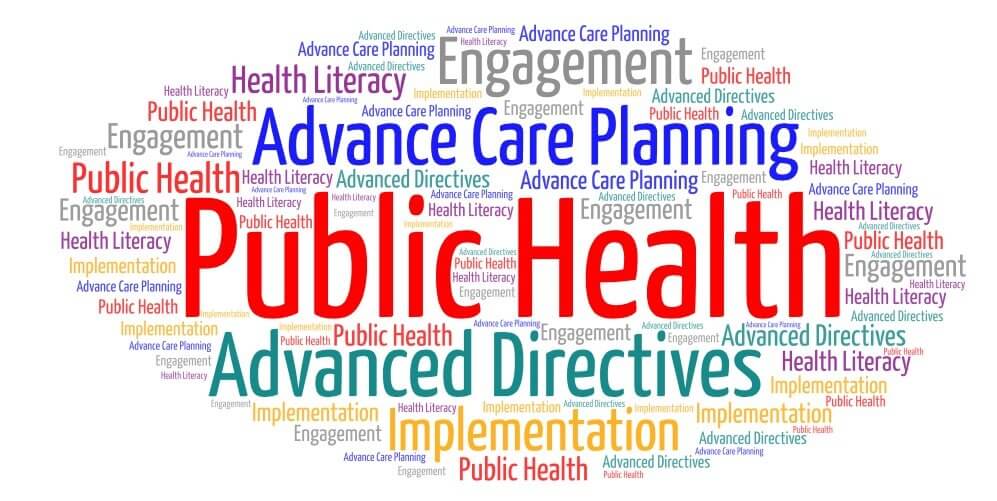 Reading Time:
3
minutes
Innovations in medicine and successful public health campaigns have contributed to increased life expectancy for Americans. As of 2019, the average life expectancy for someone born in the U.S. was 78.8 years (it dropped to 77.8 in 2020 primarily due to COVID-19).
With advancing age comes an increase in chronic conditions that can lead to disability before death. One example is Alzheimer's disease, which is the fifth leading cause of death for those aged 65 and older. Almost six million Americans are living with Alzheimer's dementia today and a projected 14 million will be living with this disabling disease by 2050.
Those experiencing disability and life-limiting conditions – along with their families – often face difficult choices about end-of-life care. Sadly, the important conversations around these decisions either occur very late in the disease process or not at all.
According to studies, 80% of Americans say they would prefer to die at home; however, only 20% do – the remaining die in acute care hospitals (60%) or in nursing homes (20%). A small number die in hospice care but were not referred until the final weeks of life.
Advance care planning is a public health issue
Despite the proven benefits of advance care planning (ACP), there has been persistently low participation levels in having these important conversations. America has what is often referred to as a "death-denying" culture, which leads to putting off honest discussions about dying and end-of-life care.
Engaging in ACP conversations and ensuring completion of related legal and written documents involves a joint effort between patients, their families and health care professionals. Given the rapid growth of the aging population and their rising need for end-of-life care in a culture uncomfortable discussing death, ACP should be approached as a public health issue.
A 2010 JAMA paper  supported a public health approach by pointing out that "ACP may best be considered a part of medical care similar to exercise, smoking cessation, dietary change, and cancer screening; i.e. activities that are good for individuals but which they may not want to do." In its landmark Dying in Americareport, the Institute of Medicine championed a "whole-community" approach to fostering ACP.
In recognition of the opportunity to educate the American public about ACP to improve their quality of care at the end of life, the Centers for Disease Control and Prevention (CDC) published a Critical Issue Brief in 2012 entitled: "Advance Care Planning: Ensuring Your Wishes Are Known and Honored If You Are Unable to Speak for Yourself," that pointed out how ACP meets three primary criteria that define a public health issue:
It can potentially affect a large number of people.
It can reduce unwanted and expensive treatment.
It can meet public demand to change the way care has been addressed in the past.
7 interventions that promote public engagement in ACP
Using a public health approach that normalizes ACP conversations and prioritizes end-of-life care that honors and upholds a patient's wishes should involve the following interventions:
Public education programs on death and dying;
Social marketing initiatives to raise awareness about the importance of planning for care near the end of life;
Support for clinical education of healthcare providers in palliative care and goals-of-care conversation skills;
National and state-level quality metrics and standards around ACP;
Research support to build on evidence-based processes, models, and decision aids;
Development of federal legislation and policies that support and promote ACP; and
Healthcare IT ecosystems that can facilitate medical decisions across care settings in a timely manner.
ACP Decisions has over 400 evidence-based video decision support tools that promote effective advance care planning and are easily accessible on a user-friendly technology platform. If your organization is interested in implementing an advance care planning initiative or improving your current efforts, let's talk!
---
---