RESEARCH | January 27, 2022
Recent Clinical Research in Palliative Care: 5 Key Takeaways
Reading Time: 3 minutes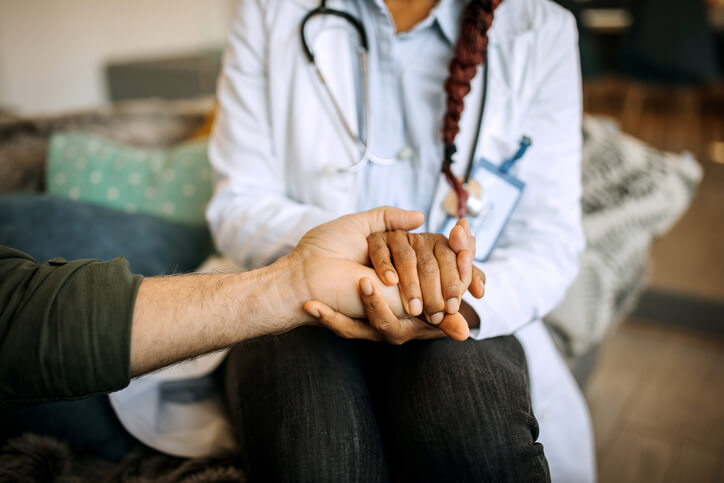 Reading Time:
3
minutes
Palliative care is defined as medical care that is focused on relieving the symptoms associated with a chronic or life-threatening illness. It can be offered along with curative treatments at any stage of illness to provide comfort and support. It also includes guidance making important medical decisions and assistance with coordination of care.
The goal of palliative care is to improve the overall quality of life for a patient suffering from a medical condition. It is designed to support patients physically, emotionally, and spiritually, as well as their families and caregivers.
There is a growing need for palliative care, and this specialty continues to evolve. Here are five key takeaways from recently published studies in palliative care:
1.Prognostic tools are not more accurate than clinical judgement
The purpose of this cohort study was to validate the performance of four commonly used prognostic tools against clinical predictions of survival (CPS) by palliative care professionals. There was no evidence that prognostic tools are more accurate than clinical judgement; however, they may be of value as an addition to clinical practice. (PLOS ONE, 16(5), May 2021)
2. Published evidence impacts palliative care referral practices
This retrospective analysis set out to discover if palliative care referrals for patients with advanced cancer would occur earlier following published evidence of the benefits of early palliative care in this population. The study revealed a significant improvement in the timeliness of referrals by oncologists after research was published that supported early referrals to outpatient palliative care. (The Oncologist, Volume 26, Issue 4, April 2021)
3. Goals-of-care conversations are challenging and complex
The researchers for this study wanted to get a deeper understanding of how goals-of-care conversations develop between patients with advanced cancer and their oncology and palliative care providers. The study results reveal that there is agreement that goals-of-care conversations are important and palliative care teams facilitate the process. However, several factors influence the frequency and quality of these complex conversations, including patient receptivity, stage of illness, clinician attitudes and early integration of palliative care. (American Journal of Hospice and Palliative Medicine, Volume 38, Issue 5, July 2021)
4. Public health nurses can be an essential resource to palliative care agencies during a pandemic
This cross-sectional survey was undertaken to ascertain the impact of the COVID-19 pandemic on the hospice and palliative workforce and service delivery. The qualitative and quantitative findings reveal that the pandemic increased the demand for palliative care services and placed a substantial strain on the workforce to deliver these services. The study also revealed a lack of coordinated public health response to the pandemic in palliative care settings. The researchers conclude that since public health nurses are highly skilled in disaster management and public health emergencies, their expertise can be leveraged to support palliative care agencies during a pandemic. (Public Health Nursing, Volume 38, Issue 3, May/June 2021)
5. Family caregiver quality of life is an essential consideration for home-based palliative care
In this study that used a quasi-experimental design with a control group, the researchers explored the effects of a 7-day online diary intervention program on the quality of life (QOL) of family caregivers of advanced cancer patients in home-based palliative care settings. Providing end-of-life care for a loved one at home increases the burden on family caregivers, which can impact health factors that decrease their overall QOL and competency for providing good care. The results of this study suggest that the use of an intervention program – such as the Online Daily Diary (ONDIARY) – can help prevent the decline of family caregiver QOL caring for a loved one at home. (Complementary Therapies in Clinical Practice, Volume 46, February 2022)
Is your healthcare organization interested in implementing or improving an advance care planning initiative? We can help! The effectiveness of ACP Decision's extensive advance care planning video library has been proven in over 20 clinical trials involving thousands of people from diverse patient populations in various clinical settings. Contact us today to get started!
You may also like to read:
---
---